Discover Glenorchy's Art Hub on foot or by bike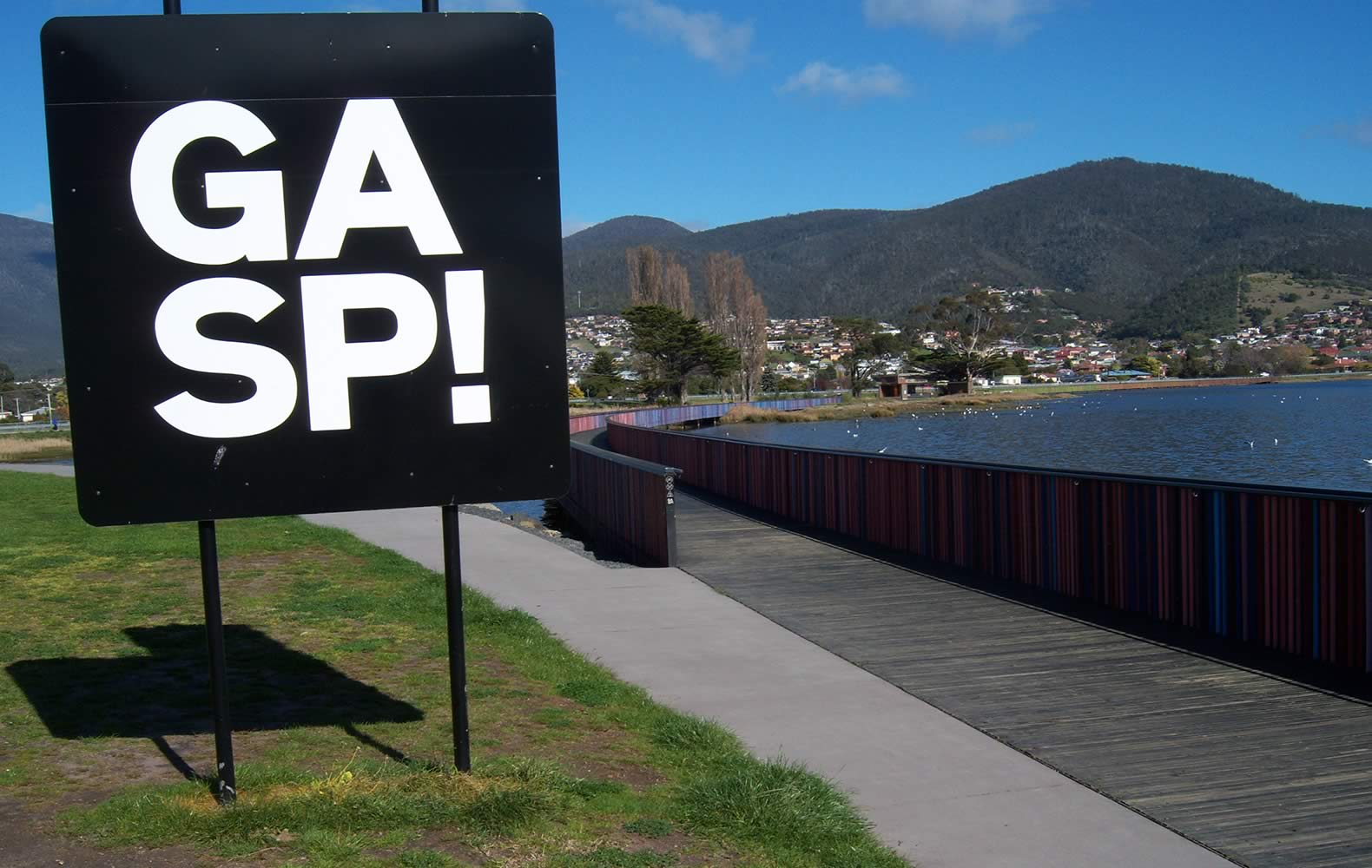 by Peter Grant
Art isn't always child-friendly. Hobart's controversial Museum of Old and New Art (better known as MONA) might be seen as a prime example of that. For all of its well-deserved fame, the content of the museum isn't designed with children in mind.
But there is a way to approach MONA that is decidedly child-friendly. It involves walking just over 3 km along the Derwent foreshore, and ending up in the grounds of MONA. (Going inside is purely optional.)
We started out with two cars, three adults and three children, planning to do a straightforward car shuffle. By leaving one car at MONA, and the other at the start of our walk, near the Derwent Entertainment Centre, we'd be doing a one-way walk, and it should take us less than 90 minutes.
Not far from the start we entered the Glenorchy Art and Sculpture Park (better known as GASP!). We wondered whether the colourful raised walkways near the start might qualify as artworks. Curving out across the Derwent's shallows, they certainly brought us close to the water and the birdlife along the shore.
When the sculptures proper began, we weren't in any doubt. Without a word from us, the children were soon clambering onto some of the colourful mosaic sculptures dotted along the walk. There were no signs saying "do not climb", so we felt comfortable letting them get a VERY close look at these playful and colourful artworks.
In fact they enjoyed the sculptures so much they didn't even bother trying out the play equipment at the nearby Grove Reserve. Instead they hurried on to find the final few GASP sculptures near Montrose Bay High School.
Beyond the school the track turned inland, away from the Derwent, and went alongside the busy Brooker Highway. This was less interesting to all of us, so we covered that couple of hundred metres quite quickly. Our eyes were on the goal of our walk: the entry to MONA. The new museum, which opened in 2011, was built on the grounds of an existing vineyard. As we entered its grounds, we ambled alongside rows of grapevines before the track swept us up to MONA's main buildings.
From near the museum's entrance we had the satisfaction of looking back over the course of our whole walk. Across the water we could see the white dome of the Derwent Entertainment Centre. We also saw the MONA Roma ferry ploughing down the Derwent, carrying art lovers back to the city after their day at MONA. While our own young art lovers mightn't have been inside the museum, they'd certainly enjoyed their chance to appreciate both art and the River Derwent up close.
Monday 11 July 2016