New beach water quality ratings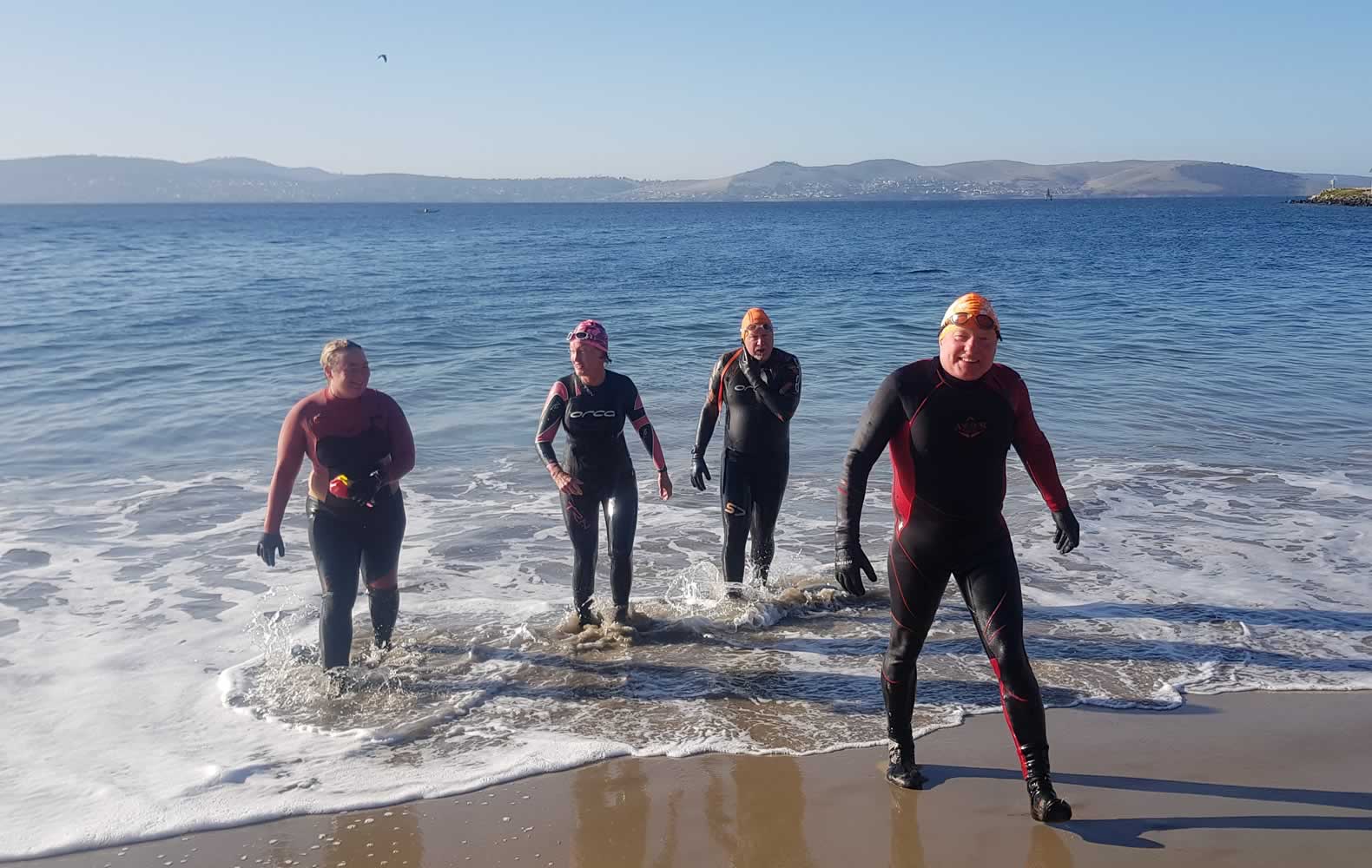 The majority of beaches on the Derwent have been declared safe for swimming in this year's Beach Watch Report, in a boost for anyone seeking outdoor exercise after the COVID-19 lockdown.
The highly anticipated annual report from the Derwent Estuary Program (DEP) measures water quality for 21 greater Hobart's beaches from New Norfolk to Blackmans Bay.
This year's Beach Watch report found that the majority of beaches had either a Good or Fair rating, making them suitable for swimming. No beach experienced a rating decline from last year.
"This really pleasing result is wonderful news for everyone in greater Hobart wanting to use our beautiful beaches as COVID-19 restrictions are lifted," said DEP CEO Ursula Taylor.
The findings were welcomed by Harald Gatenby, one of the organisers of year-round swimming group Weedy Seadragons, and he thanked DEP and its partners for carrying out the research.
"We swim for fun and also for our health and the Derwent Estuary Program's Beach Watch ratings give us confidence that we're swimming in good quality water," said Mr Gatenby.
Beach Watch researchers collected water samples each week between December 2019 and March 2020 and analysed them for enterococci bacteria, which indicate the presence of contaminants from stormwater run-off and other sources.
Each site was then classified as having Good, Fair or Poor water quality in line with state and national guidelines, based on five years of data.
Ms Taylor said the 2019-2020 season was a complete contrast to last year with only five beach samples returning enterococci counts at high levels compared with a record 52 in the previous season.
"When those five sites were re-tested they all came back below the trigger level which is very reassuring," she said.
Ms Taylor said this year's results were most likely due to significant work being carried out by Councils in their stormwater catchments, along with limited rainfall during the testing period.
"Councils and TasWater are doing a great job in managing stormwater infrastructure and we encourage them to continue with that for the health of the Derwent and everyone who uses it."
To support Councils, DEP has this year released a new Beach Watch Response Protocol, developed with the Department of Health and Councils. The Protocol provides a step-by-step guide for Councils on how to respond when enterococci sample results exceed trigger levels.
DEP has also released a new Source Tracking Framework and Tool Kit for Councils and others searching for pollution at recreational swimming beaches and in stormwater systems. It includes a new cheap, quick and easy-to-use ammonia test kit to pinpoint contamination hotspots.
State Manager of Environmental Health, Paul Hunt reminded water users about the risks of swimming anywhere along the Derwent estuary after heavy rainfall.
"After periods of wet weather a number of beaches may experience poor water quality. I would strongly recommend that people avoid swimming in the Derwent for several days after any significant rainfall, and always avoid swimming near stormwater outlets," he said.
The Beach Watch report is part of DEP's annual Derwent Estuary Recreational Water Quality (RWQ) Program which tests water quality at 22 bays on the Derwent as well as the 21 beaches.
RWQ is a joint initiative between DEP, six local councils, the State Government and the Environmental Protection Agency for 20 years to inform the public of the Derwent's water quality.
This year's Beach Watch full results – and the rest of the RWQ findings – are available on our Beach Watch page.
Thursday 18 June 2020