In Tasmania saltmarshes mainly occur in small patches and are generally found within bays and at the mouths of creeks and streams. Their extent depends upon the shape of the landscape, being largest in flat low-lying areas. Within the Derwent estuary the largest area of saltmarshes and tidal flats occurs in Ralphs Bay near Lauderdale. They are highly productive habitats provide food and shelter for a diverse suite of marine and terrestrial species, and also support the healthy functioning of estuaries.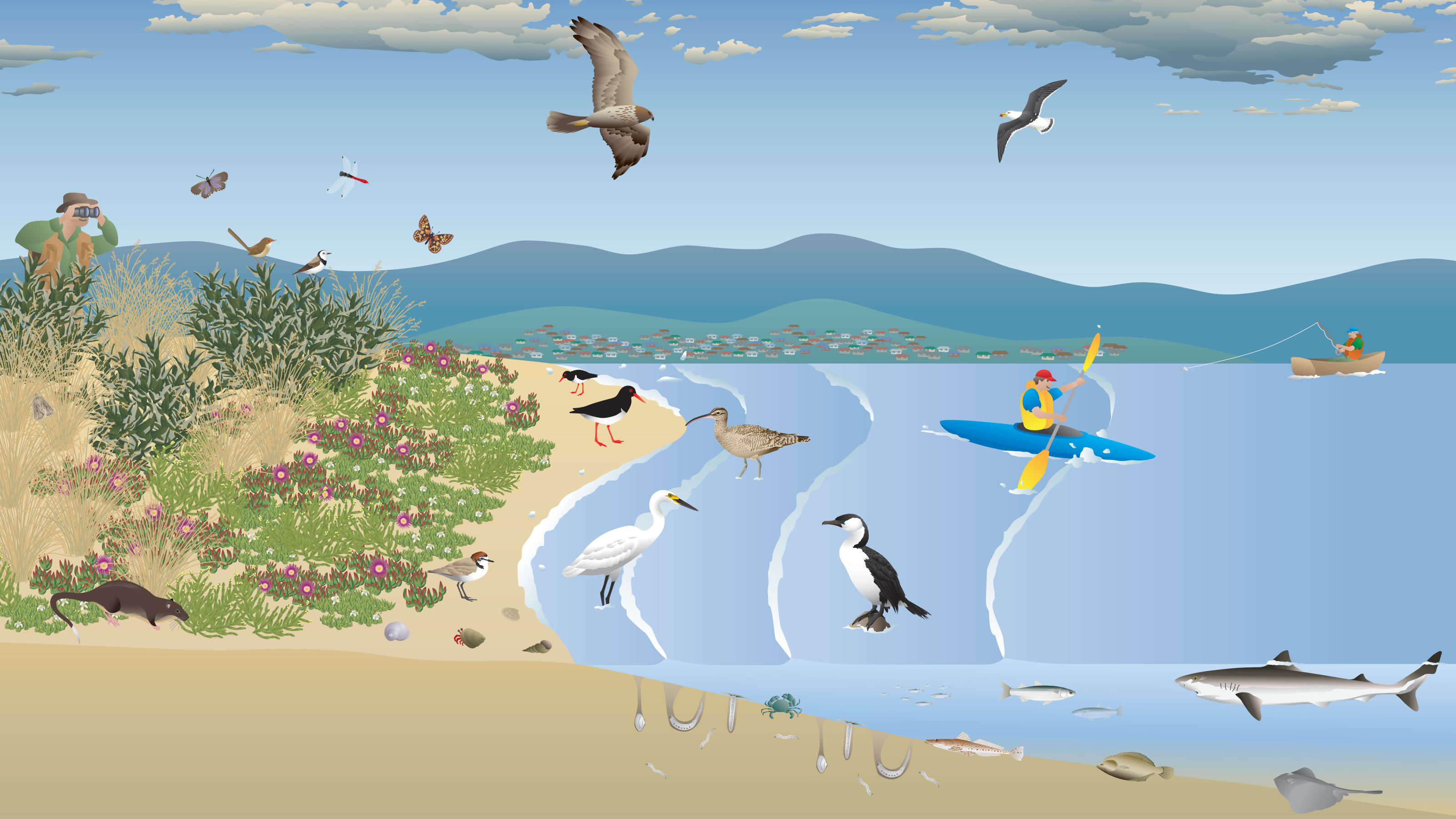 The Habitat Atlas indicates that there are 11.4 km² of sandy tidal flats/beaches remaining in the Derwent estuary (primarily in Ralphs Bay) and about 1 km² of mudflats (in the upper estuary). The landward margins of tidal flats are often associated with salt marshes, containing a unique assemblage of succulents and other salt-tolerant plants
Did you know?
More than 10 species of wading birds feed on the sandy tidal flats of Ralphs Bay. Some of these birds migrate over 15,000 km each year, from their breeding sites in the northern hemisphere as far as Alaska and Siberia.
Community types
Plants and animal species of saltmarsh and tidal flats occur in a range of different community types, largely distinguished by the vegetation types.
Key threats
Extensive loss of saltmarsh due to land reclamation and changes in land use mean that many remaining areas are often fragmented. Despite the significance of saltmarsh it is one of the most heavily impacted coastal habitats and are listed as an Endangered Ecological Community in some Australian states. Of critical importance to the future of these habitats are changes in relative sea level and in tidal range. Climate related threats require thoughtful re-zoning of land neighbouring saltmarshes to enable the land-ward transgression of these saline wetlands with sea level rise.
Saltmarshes are highly fragile and prone to disturbance, especially from:
motorbikes and cars
grazing from rabbits and livestock
illegal clearing
bushfire
weed invasion
For more information on threats to saltmarsh and other habitats in the Derwent estuary see our publications.
Educational resources and excursions
Visit a tidal flat and salt marsh as part of a school trip, for example at Lauderdale or Arm End. How many different kinds of birds can you spot? Collect several tubs full of sand and filter these through a sieve. How many different kinds of invertebrates can you find?
The DEP have developed a range of classroom activities and an outdoor interpretive walk focused on saltmarsh and tidal flats with support from the Australian Government's Caring for Our Country. The material is most suitable for primary school students. A single classroom activity or the interpretive walk can be presented alone. However, the material has been designed to complement the interpretive walk, and if delivered together will enable students to gain a good understanding of the ecology and importance of saltmarsh and tidal flats to the broader estuary.
Classroom activities
The DEP website provides a general introduction to saltmarsh habitats in the Derwent estuary. In small groups ask students to explore the website to answer a range of general exploratory questions.
Students will learn about plant and animal species that are common to saltmarsh and tidal flats, and research the internet to find their niche, relationship with other organisms, and sensitivity to changes in their environment.
If planning an excursion to saltmarsh or tidal flats (Lauderdale Saltmarsh Discovery Trail) undertake this classroom activity before and after the field trip to promote scientific enquiry. Write questions about the habitat to be visited, revisit them in the field, and also when back in the classroom to see if they found the answers.
Within any ecosystem there is an intricate web of relationships between living things. Activity guidelines are provided for different age groups to guide student through the creation of their own food web to demonstrate how energy passes through an ecosystem and the feeding relationships between organisms.
Outdoor activities
Take the Lauderdale Saltmarsh Discovery Trail – Follow 9 discovery points along a mapped walking trail and read from a detailed information sheet to witness firsthand the unique world of saltmarshes. Discover ancient miniature forests, salt tolerant plants, a diverse invertebrate community, and the threat of sea level rise, all in one short walk. Incorporate the 'Wildlife Detective' (coming soon) and 'Sensory Exploration' activity to engage students further in this outdoor classroom. Also visit the Dyson Road Saltmarsh, 'Saltmarsh interpretive sign' and 'Coastal erosion interpretive sign' in Lauderdale.
There are a number of suggested locations along the Lauderdale Discovery Trail where students/participants should be encouraged to look, listen, smell, and touch but not damage. Follow these guidelines to run an interactive activity engaging as many of the senses as possible. This will broaden ones perspective of a saltmarsh, and how animals live in this environment.
On a field sheet students/participants can make sketches and take notes about what they find and where. By being a detective everyone can try and piece together the users of the saltmarsh by the traces they find. Clues may come in the form of footprints, feathers, shells, or maybe animal scats/poo.
DEP information kit for loan
Borrow the DEP saltmarsh information kit and engage the class on a discovery of the weird and wonderful world of saltmarsh and tidal flats. Learn about rare moths, secretive birds and mammals, and how plants and animals have adapted to cope with extreme environmental conditions. Contact us to borrow the kit, which contains:
10 info cards on biodiversity, unique species and key threats
A2 poster – food web and saltmarsh processes
A1 magnetic food web game
Accompanying teacher notes